HELLO OCTOBER
Escape away today for the pumpkin seasonal or a brightening chemical peel. Mark your calendars for a special event on Nov 2.
Referral Extravaganza
This month, we have ways for you to save through referrals. Acne treatments or other restorative options avail your family and friends.
We need more clients just like you. Smell the aromatic head massage that we are offering to our clients in addition to the 20% referral reward. We're adding a new facial and you could win a complimentary treatment with your referrals.
Referral Reward--Hydration Infusion Facial
Lynette's offering a free New Hydration Infusion Express facial.
To receive this offer, you'll need 3 people to receive a facial and rebook with Danielle, Lauren or Taryn. That includes sending someone in who hasn't been in awhile.
Our goal is to be restorative by being anti-aging, anti-inflammatory plus therapeutic!
The Chemical Peel That's Right For You
Chemical peels deal a death blow to fine lines, dark spots and lax skin. Seeacne scars and acne go.We have a peel for your skin. Each person is different. We'll choose from:

Lactic
Vitamin C
TCA or Jessner's
Dermafrost
Mandelic
Green Peel
Glycolic
Perfection peel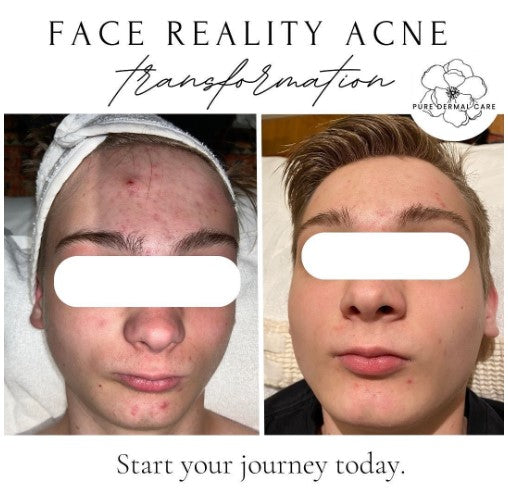 A Referral Made This Transformation Possible
Long time customer Barbara C. gave us this referral. So many of you have shared Pure Dermal Care with your friends and family.
Your referrals make it possible for people to get the skin they were born to have.
Taryn used chemical peels bi-weekly and monthly to alleviate the inflammation caused by acne. See our referral reward below for the fall!
Coming Later This Month
One tool, three options.

You have a special event and want your skin to be the most hydrated it can possibly be?
Yes! Besides the HydraFacial, Helena, Pure Hydration or even Seasonal facial, We have a new offering coming your way.
 
You'll want to get the Hydration Infusion facial.
The Pumpkin Spice Facial
Fall is in the air, so that can only mean one thing... Pumpkin Spice! Enjoy a little autumn spice this month with our Pumpkin Spice facial. This facial includes the strong and spicy Pumpkin Enzyme that exfoliates and reduces oil. This treatment is then paired with the Autumn Spice Hydrating Mask which is like a warm hug for the skin. It is infused with Vitamin A and C and provides redness reduction, pore tightening and clarifying benefits for the skin. Enjoy the delightful aromas of pumpkin spice this month with our Seasonal Facial. 

Starting at $78
65 min

Text, call or click on the link below to schedule. 303-601-3456